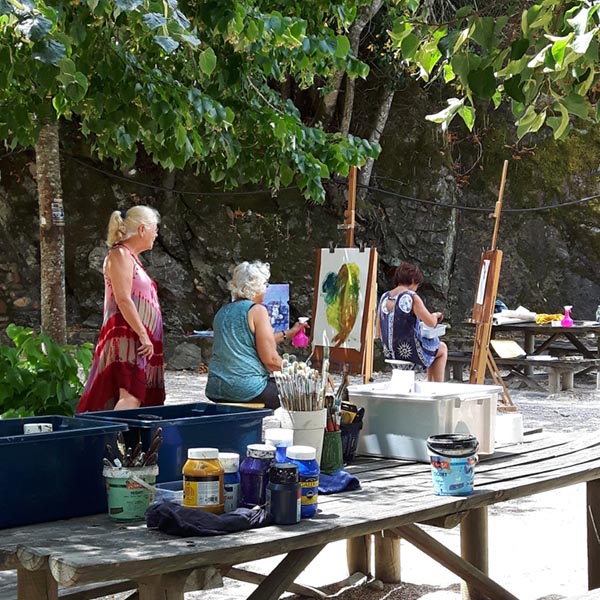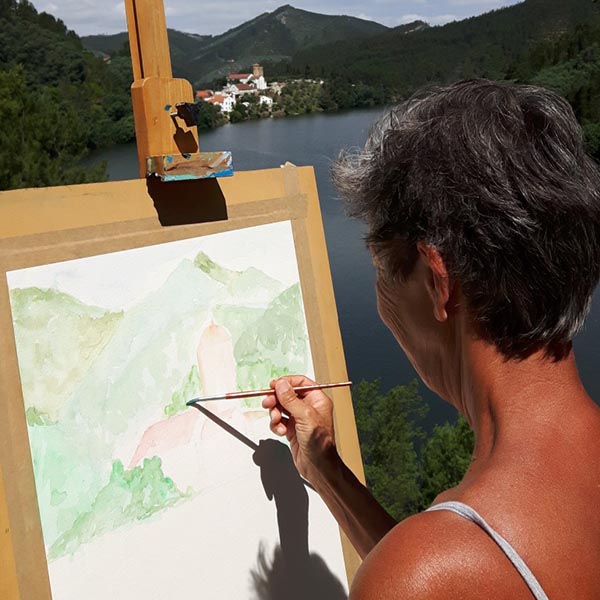 "Painting and drawing on the most beautifull locations"
One art workshop is planned in 2023 from Sunday 4 till Friday 9 June.

"From Sketch to Painting"-"From Realistic to Abstract"
In addition to working in the studio and beyond, we can also work at another nearby location. The southern light and the intense colors can inspire you to create a new composition, develop your own style or even result in an abstractly designed image. Different materials and techniques are discussed in the workshops. This workshop is suitable for beginners as well as advanced. In order to personally guide everybody sufficiently, I aim for groups of a maximum of 8 participants per workshop. 
Participation fee: € 400,- p.p. for 6 days..
Included are materials, coffee, tea, soft drinks and a tasteful extensive daily warm lunch. Also included, if applicable, the transfer between "Casal da Macieira" and the "outdoor" drawing and painting locations. Not included: canvases.
Not included: transport to and from the airport, accommodation, meals and drinks besides those during the lessons, any entrance fees.
Depending on the weather conditions, the program can be adjusted. The warm lunch,"almoço" (pronounced almòsoe), is used in one of the local venues. This lunch usually consists of three courses and includes wine or other drinks. This way you experience "en passant" that Portuguese cuisine is worth it.
In your spare time it is possible to do some sketching and drawing at your own accommodation address, take a walk through the eucalyptus and pine forests, take a dip in the river or just relax in the sun.
The weekly program
Sunday 10.30u-13.30u:
introduction with coffee and local specialty, weekly discussion, preparations, lunch.
Monday 08.30u-13.30u:
painting, followed by lunch, afternoon free.
Tuesday 08.30u-13.30u:
painting, followed by lunch, afternoon free.
Wednesday 08.30u-13.30u:
painting, followed by lunch, afternoon free.
Thursday 08.30u-13.30u:
painting, followed by lunch, afternoon free.
Friday 08.30u-13.30u:
painting, lunch, afternoon free
5:00 pm: evaluation, exhibition, drinks and BBQ. in art studio "Casal da Macieira"